Didn't Pass
Proposition 45 –
This initiative measure is submitted to the people in accordance with the provisions of Section 8 of Article II of the California Constitution.
This initiative measure adds a section to the Insurance Code; therefore, new provisions proposed to be added are printed in italic type [view original pdf]  to indicate that they are new.
Proposed Law
Insurance Rate Public Justification and Accountability Act
SECTION 1. Findings and Purpose.
Health insurance, home insurance and auto insurance are mandatory for Californians due to economic necessity
***Is no co pay for Preventative Care really necessary?
or the force of law.
***Obamacare ACA
In such cases, government has an obligation to guarantee that the insurance is affordable, available, competitive and fair.
***That's what Obamacare did with the mandatory 80% loss ratio and rebates    ACA claims saving $2 BILLION over two years in premiums!  With Obamacare we lost Aetna and PacifiCare.  I've had a quote engine on my site for say over 10 years.
How many people are taking advantage of the preventative and wellness benefits and comply with their doctors recommendations, as mandated by Covered CA , page 8?   What about the obesity epidemic?   Video HBO
The purpose of this measure is to ensure fair and transparent rates
***Rates are transparent, see See Medical Loss Ratio   CA DOI Health Insurance Rate Filings  How else did my  friendly competitor learn that Health Net is dropping PPO and Blue Cross is dropping 79 plans?
for health, home and auto insurance by:
***Why is home and auto mentioned here?
(1) requiring health insurance companies to publicly disclose and justify their rates,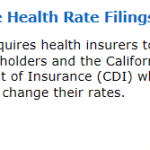 ***They ALREADY DO!!!  See Medical Loss Ratio   CA DOI Health Insurance Rate Filings
under penalty of perjury, before the rates can take effect;
(2) prohibiting unfair pricing for health, auto and home insurance based on prior coverage and credit history; and
***Health Care Reform already does that
(3) requiring health insurance companies to pay a fee to cover the costs of administering these new laws so that this initiative will cost taxpayers nothing.
***IMHO this is completely idiotic!  The fee will be part of the rate!  It's a cost of doing business, just like printing forms and paying claims.
SEC. 2. Public Scrutiny and Review of Insurance Rates.
Section 1861.17 is added to the Insurance Code, to read:
1861.17. (a) Subdivisions (a) and (b) of Section 1861.03 and Sections 1861.04 to 1861.14, inclusive, shall apply to health insurance, notwithstanding subdivision (e) of Section 1851 and Sections 10181 to 10181.13, inclusive, Sections 1385.01 to 1385.13, inclusive, of the Health and Safety Code, or any other provision of law. Health insurance rates proposed after November 6, 2012, shall be approved by the commissioner prior to their use, and health insurance rates in effect on November 6, 2012, are subject to refund under this section.
***Sounds like an illegal ex post facto law to me.  We already get rebates under the Medical Loss Ratio rule
Do we really want ONE guy or department will all this power?  Who watches over the Insurance Commissioner?   How many politicians and those appointed to look over public funds are in jail or having pending criminal charges against them for NOT doing their job?  What if the commissioner takes bribes or commits extortion?
Applications for health insurance rates shall be accompanied by a statement, sworn under penalty of perjury by the chief executive of the company, declaring that the contents are accurate and comply in all respects with California law.
(b) There shall be a transitional period during which the commissioner may permit, on a conditional basis and subject to refund as required by subdivision (c), rates for new health insurance that have not been approved pursuant to Section 1861.05, provided (1) that the rates have an implementation date on or before January 1, 2014, and (2) that the new health insurance has not previously been marketed in California and contains provisions mandated by federal law, or state law in effect as of January 1, 2012.
***Sounds like a big problem with Obamacare
(c) In a proceeding pursuant to the authority of subdivision (a) of Section 1861.10, including a proceeding under Section 1861.03 or 1861.05, where it is determined that a company charged health insurance rates that are excessive or otherwise in violation of this article, the company shall be required to pay refunds with interest, notwithstanding any other provision of law and in addition to any other penalty permitted by law.
***We didn't get a whole lot of rebates under Obamacare
(d) With respect to health, automobile, and homeowners insurance, the absence of prior insurance coverage, or a person's credit history, shall not be a criterion for determining eligibility for a policy or contract, or generally for rates, premiums or insurability.
***We already have that under PPACA, Obama Care and AB 1461?  CA laws to implement ACA
(e) Notwithstanding any other provision of law, the commissioner is granted the powers necessary to carry out the provisions of this section, including any and all authority for health care service plan rate review granted to the Department of Managed Health Care by Section 1385.01 and following of the Health and Safety Code.
(f) Health insurance companies shall pay the filing fees required by Section 12979, which, notwithstanding Section 13340 of the Government Code, are continuously appropriated to cover any operational or administrative costs arising from this section. The commissioner shall annually report to the public all such expenditures and the impact of this section.
(g) For purposes of this section:
(1) "Health insurance" means a policy or contract issued or delivered in California (A) as defined in subdivision (b) of Section 106, or (B) a health care service plan, as defined by subdivision (f) of Section 1345 of the Health and Safety Code.
(2) "Rate" means the charges assessed for health insurance or anything that affects the charges associated with health insurance, including, but not limited to, benefits, premiums, base rates, underwriting relativities, discounts, co‑payments, coinsurance, deductibles, premium financing, installment fees, and any other out‑of‑pocket costs of the policyholder.
***I thought we had all that with the Metal Levels, under Obamacare.
(3) The following shall not be subject to this section: A large group health insurance policy or contract as defined by subdivision (a) of Section 10181 or subdivision (a) of Section 1385.01 of the Health and Safety Code, or a policy or contract excluded under Section 10181.2 or 1385.02 of the Health and Safety Code, as those provisions were in effect on January 1, 2011.
SEC. 3. Technical Matters.
This act shall be liberally construed and applied in order to fully promote its underlying purposes, and shall not be amended, directly or indirectly, by the Legislature except to further its purposes by a statute passed in each house by rollcall vote entered in the journal, two‑thirds of the membership concurring, or by a statute that becomes effective only when approved by the electorate. If any provision of this act or the application thereof to any person or circumstances is held invalid or unenforceable, it shall not affect other provisions or applications of the act which can be given effect without the invalid or unenforceable provision or application, and to this end the provisions of this act are severable.
10181 For purposes of this article, the following definitions shall apply:
(a) "Large group health insurance policy" means a group health insurance policy other than a policy issued to a small employer, as defined in Section 10700, 10753, or 10755.