All White House You Tube Video's on ObamaCare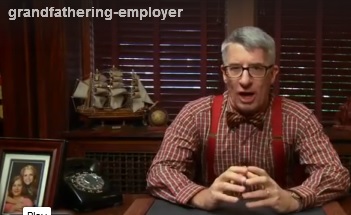 Grandfathering Exemption

Grandfathering means that if your coverage was in place on 9.23.2010, when the Affordable Care Act was enacted, President Obama promised that you could keep it, as long as there were no "major" changes to you coverage.  View this  chart for the differences in the Mandates for NEW plans and for the Older Grandfathered Plans.

Breaking News & Updates
Blue Shield NON RENEWAL for 2017
Blue Shield Grandfathering WebPage   FAQ    4.1.2015 one time 25% credit on monthly bill
GET Quotes on NEW Plans
Individual CA ♦ Nationwide ♦ Small Employer CA
Advantage of a Grandfathered Plan
SB 1446 Grandmothering for Group Plans

The primary one  is that in 2014 the rating for the nongrandfathered plans will be subject to additional taxes and fees. These could total upwards of 50% higher than a comparable grandfathered plans. Since the rates will be so much higher than the grandfathered plans we feel it would be a good idea to keep those plans until at least we see how the rates look like in 2014.Excerpt of Email Rec'd 1.25.2013 from a Major Insurance Company
However, the Government says NO in Q & A on their website at healthreform.gov
Individual Grandfathered plans are "closed" plans, no longer sold to new applicants. It is possible that premiums or costs may increase because new, healthy applicants are no longer being added to the closed "pool" of members. Premium changes for all plans, whether "closed" or open to new sales, are driven by several factors. These include increased consumer demand for services, rising prescription drug costs, advances in medical technology, and benefits and/or taxes required by state and federal legislation. Blue Cross Flyer

make some changes to the benefits their plans offer,

raise premiums or change employee cost-sharing to keep pace with health costs within some limits, and

continue to enroll new employees and their families.
The bottom line is that under the Affordable Care Act, if you like your doctor and plan, you can keep them.  But if you aren't satisfied with your insurance options today, the Affordable Care Act provides for better, more affordable health care choices through new consumer protections.  (healthreform.gov)
Wikipedia on Health Reform & Grandfathering
No more RAF – Rating Adjustment Factor  §10753.14 in Employer Group Plans
End of Grand Fathering?
It looks like Grandfathering is OVER for Individual Plans in 2015.  Blue Cross is dropping 79 plans.  California Health Line 10.3.2014 reports Blue Cross, Kaiser and various other insurers are not renewing pre ACA plans, that don't have the 10 essential benefits and other provisions of ACA.   Reasoning – Washington Post?
FAQ's
Which will be less expensive Grandfathered or Not?
Is there any difference in Premium Taxes or other fees or taxes imposed by Health Care Reform?
General Client  Resources & Links

grand fathered-plans (health care.gov)
Blue Cross Health Reform Website 5.2013
Anthem Blue Cross Press Release 6/25/2010      List of Grandfathered Plans
MakingHealthCareReformWork.com
8 questions to determine status Health Net Flyer
if health plans significantly raise co-payments or deductibles, or if they significantly reduce benefits – for example, if they stop covering treatment for a disease like HIV/AIDS or cystic fibrosis – they'll lose their grandfathered status and their customers will get the same full set of consumer protections as new plans. (healthreform.gov)
Keeping the Health Plan you have – Grandfathered… Rules HealthReform.Gov
Research & Technical Links
Child Pages